Data analysis applied to identifying illegal trends and bad actors in the massage industry
Identifying Illicit Massage Locations
Permeating San Diego: dubious massage locations
Research supports a strong assertion: The massage industry in San Diego has been infiltrated by bad actors who are parading themselves as "therapeutic" in spite of being unlicensed and offering sexual services. This is based on data extracted through webscraping foreign language, consumer review, salacious advertisment and government websites. The reader is being invited on a journey exploring the seedier side of the industry with access to information unlikely to be found elsewhere. The data also suggests that despite the industry being a vehicle for human trafficking, a significant number of illicit massage 'providers' are not coerced and are instead working their way "up" to become proprietors.
All project code and notes
Fork or clone from the GitHub repository.
Massage: 50% illicit
Almost half of the massage establishments reviewed on Yelp also appear on Rubmaps. Rubmaps is a review site for illicit massage that costs about $20 a month and sexual services offered at various locations are graphically described. Check out an article about it from NBC news: here. Yelp is both an advertising platform and a consumer review site. The Yelp home page touts finding the "best businesses in town" such as accountants, movers, restaurants and dry cleaners. It is hardly the place one would expect to find illicit services.
The map below shows all massage locations within the City of San Diego. The county is not included. Red circles indicate business locations that are also on Rubmaps. The bubble size correlates with the number of reviews on Yelp; the larger bubble sizes associate with high review counts.

Rub Map Locations that Appear on Yelp
Unexpected findings
As a former business owner in the spa industry and still an enthusiastic massage consumer, I keep my eye on the local industry. The dichotomy between mushrooming massage locations and simultaneous shuttering of massage schools eventually inspired me to apply the "super powers" of data science to investigate what is going on. Analysis reveals that it is likely increasingly difficult for consumers to be sure that they are patronizing businesses that are in comliance with the law and free from sexual services. Evidence suggests that massage parlors are setting up as "one stop shops", simultaneously accomodating requests for reflexology, a "girls night out" or a "happy ending". One unexpected reason for this seems to be recently weakened massage regulations which are supported by the very organizations claiming to protect consumers and/or massage professionals.
The consumer challenge
Not too long ago a blinking neon "Open" sign and locked steel door was a clear signal to anyone looking for therapeutic services to keep walking. However, of the 256 massage parlors listed on "Rubmaps" in the City of San Diego, 111 of these locations also appear on Yelp, thereby giving the appearance of legitimacy. In fact some purportedly advertise on yelp as offering other health oriented services such as nutrition, skin care, acupuncture and T.C.M. (Traditional Chinese Medicine).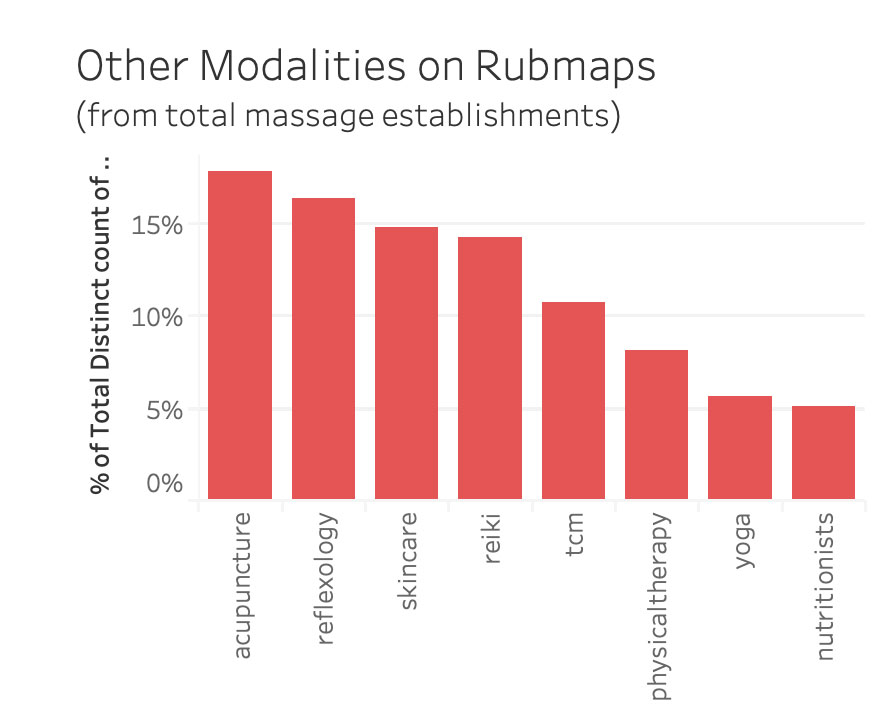 Analysis of 25,000 reviews reveals how the system works
None of these businesses can survive without complicity of their customers and workers. The men who have taken the time to review, participate and chat behind the paywall of rubmaps have provided a bounty of data that opens a window into what goes on behind closed doors.
The 20 most prolific reviewers and where they go
Where do the busiest reviewers go? Apparently all over the city. If the county data was included, the net may be substantially larger. The tab to the left of the map will display individual or all of the travel patterns that could be assigned to individual reviewers and the clickable legend on the right isolates one at a time.

Analysis of review data shows how the 'providers' move among businesses
This map is worth the effort to understand. The reviews where men talked about women moving to a different location were collected and the data shows a network of connected locations. The blue bubbles are known locations and the size of the bubble is correlated with the number of women who's names are mentioned. The yellow bubbles reference a location where the address is not specific, but is discussed frequently enough to warrant placement on the map.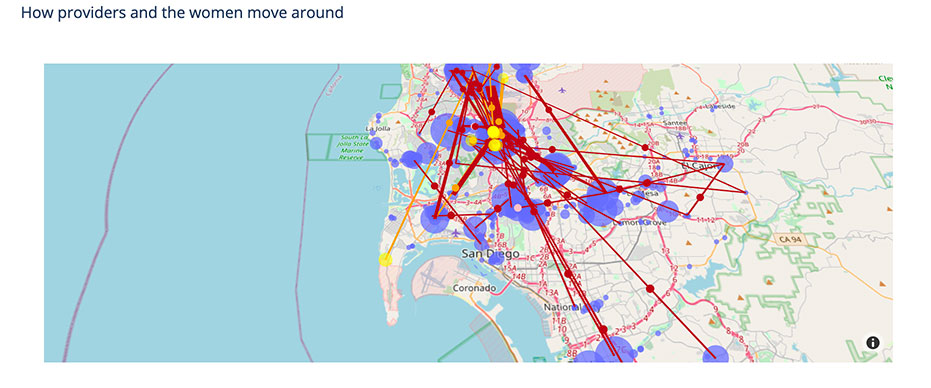 The most popular locations
These are the locations that have the most reviews on Rubmaps. The bubble size correlates with number of reviews. Considering that the site has only been around for about 10 years and that reviewers need to pay in order to post comments as opposed to yelp which is free, some places stand out as potential "hot beds" of activity such as one of the larger bubbles toward the top of the page. Google maps shows the address as an unmarked location in an industrial park.
To open the map below in a new window click here.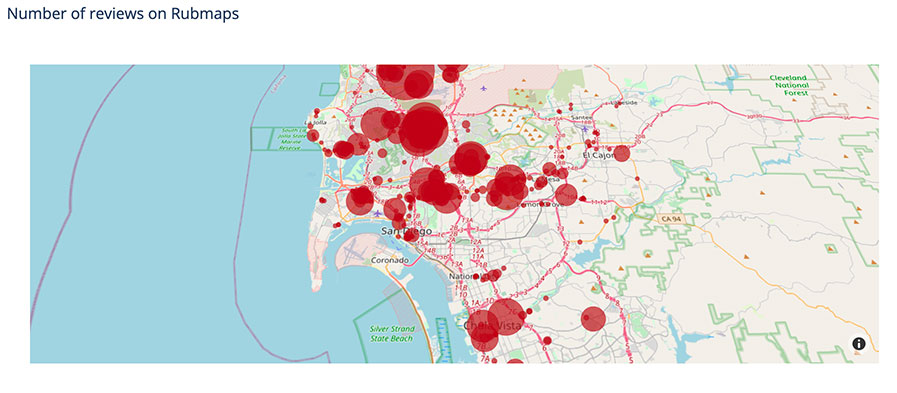 The "providers"
The number of women mentioned by unique name for each location is displayed below. No name mentioned or repeats of the same were excluded.
To open the map below in a new window click here.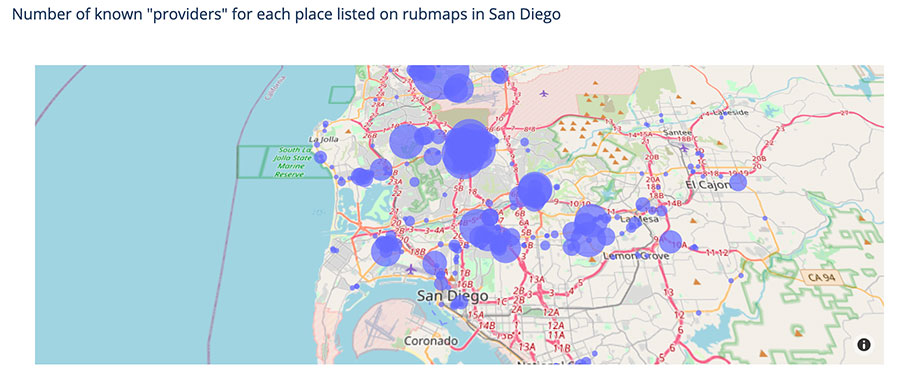 Beyond Rubmaps: Yelp, government and advertising sites
Expanding the data sources seems to provide more evidence that many locations, even those purporting to be "therapeutic" in nature are not law compliant. Comparison of phone numbers in "Help Wanted" ads from the website: meimin.us, a chinese language version of Craigslist was made to individual practitioner data from Yelp, massage certificate identification from California Massage Therapy Council (CAMTC) and business licence data from the City of San Diego. Some of the findings are shown below.
Not enough licenses to go around
What quickly becomes apparent is that there are not enough massage licenses within to support the number of therapists working in the city. Although a specific number is hard to come by, this is strongly suggested by the data used in the visualizations below. For example, certificate numbers extracted from CAMTC data provided a list of 1700 unique massage certifications in San Diego which includes the entire county. So, some smaller number would be in the city which is the only area we are analizing. Looking at Yelp alone we can identify 833 locations. Not only do many of these locations employ multiple therapists, but also there are significant numbers of massage therapists who are not listed on Yelp since they work out of their homes. It is hard to account for the number of locations vs. the number of licenses. This evidence alone suggests that there are many hanging out the shingle of "massage therapy" or "foot reflexology" that fail to comply with the law.
Business owners with massage licenses
Data for massage related business licenses from the City of San Diego matched only 22% of the CAMTC certified massage therapists. Since anyone practicing massage or reflexology within the city is supposed to have a business license and certification, this low percentage suggests that many establishments are operating without a license, which is against the law.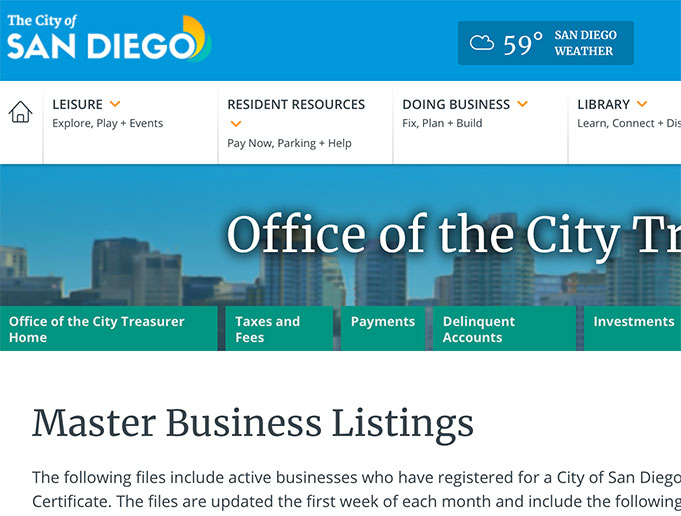 Filtering the 833 massage businesses on Yelp
One of the challenges in analyzing the data was to figure out which places are "true" massage establishments. As seen in the bar chart, many industries advertise massage services on Yelp, however it is not their main source of revenue and their reviews reflect that. Therefore, for the purpose of analyzing how many massage establishments are probably illicit, businesses that are primarily in another industry such as chiropractic, hair and eyelashes were for the most part, not compared.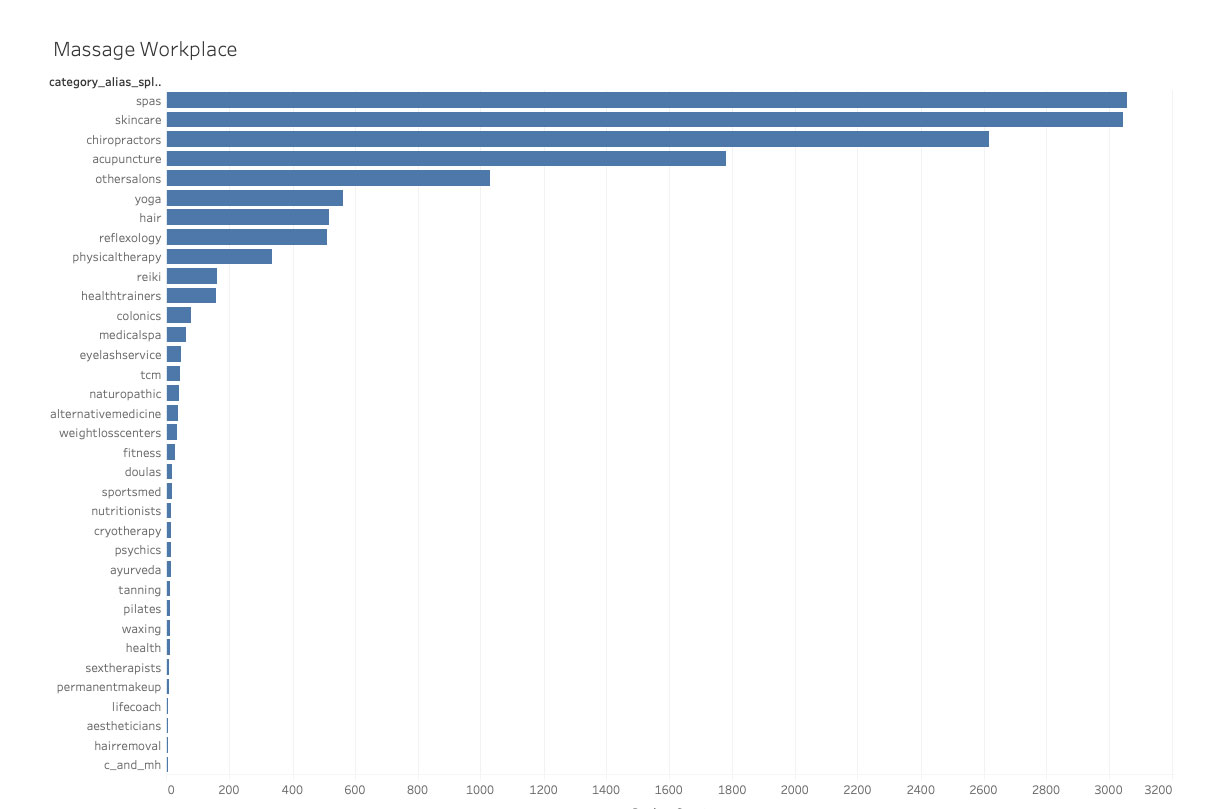 All Yelp Locations
The map below shows every business that offers massage and includes the locations previously eliminated. Note that the number of illicit locations as a percentage is diluted.
A profile of legitimate therapists
The American Massage Therapy Association provides a report on the profile of massage therapists every two years and the profile is consistent. Most are certified, female, over the age of 40 and massage is either a side income source or a second career. They are educated anatomy, physiology, multiple modalities and are passionate about self care and assisting others to be the best they can be. They also continue training and education for the life of their careers which seems to be roughly six years, and it is not unusual for those that make it past that mark to continue for decades. Read the most recent AMTA report here: Massage Industry Report
Legitimate massage businesses have great ratings
It seems like once somebody finds a good massage therapist they show their appreciation with a great review and most of the seemingly legitimate businesses hit high marks. The locations that also appear on Rubmaps are rated 30% lower on average.
Therapeutic massage businesses advertise differently
Processing advertising keywords with a machine learning algorithym revealed that more likely to use "Massage Therapy" than "Massage" as seen in the piecharts below. Red represents businesses on Rubmaps. There is also evidence to suggest that illicit locations are more likely to use words such as the following: "sauna", "private", "discrete", "mutual" and "u" instead of "you". Check out the word cloud to see the top 30 advertising words in salacious advertisements.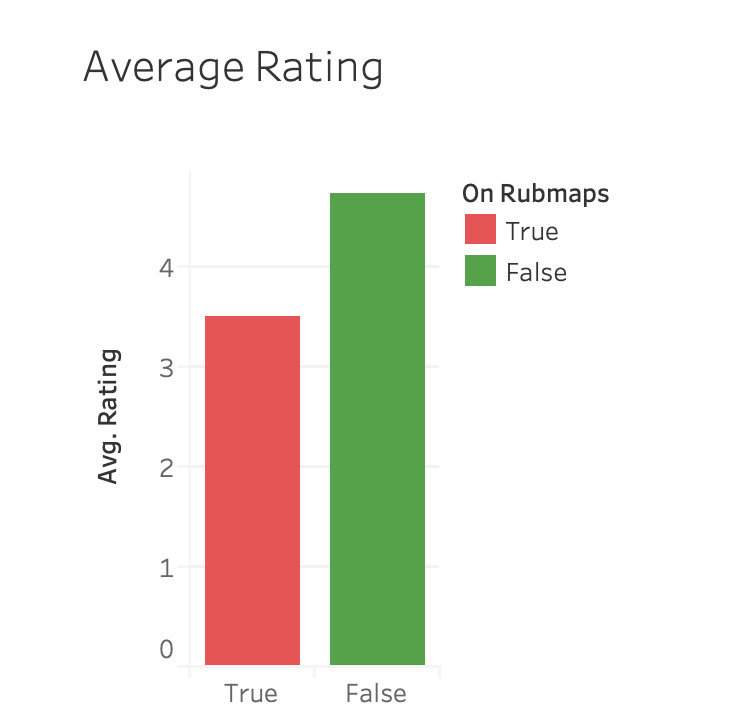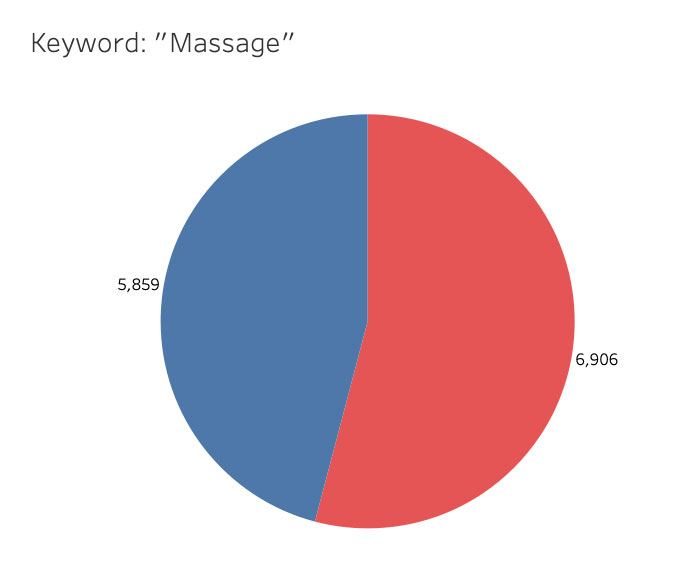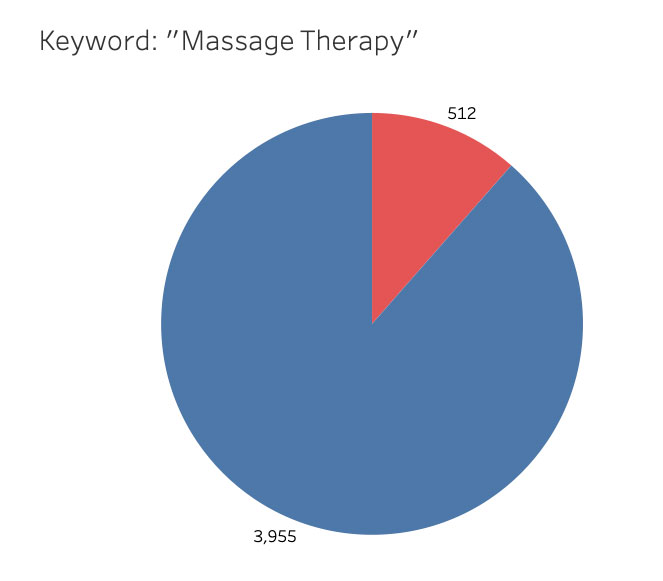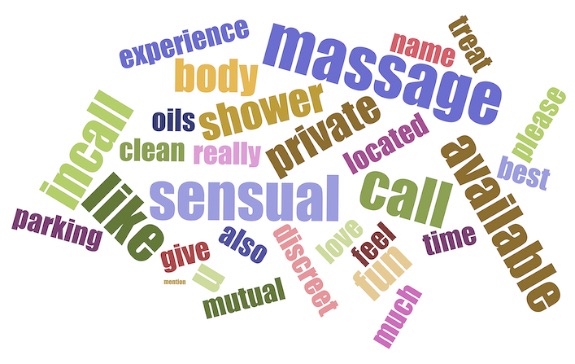 Why hasn't this been stopped?
Research suggests that the answer is complicated and many articles discuss it. Here are two observations that did not seem to get much attention.
There seems to be a loophole provided for the illicit industry by a conflict between police regulation and the CAMTC. On one hand, the CAMTC has advocated for less regulation in the massage industry over the past decade including, ironically, the elimination of compliance with local police regulations and O.S.H.A. standards for establishments. This made it no harder to open a shoe store, than a massage place. They also advocated for removal requiring passage of a national exam which evaluated a solid knowledge of anatomy, physiology and proficiency in either english or spanish. Eliminating the test lowered the education barrier. In the first image below it sure seems like the San Diego police department feels like their hands are tied, and the second shows the CAMTC announcement eliminating the national exam requirement. California is now one of the few states that does not require therapists to have it.
The second observation is that some of the advertising for sexual service providers is being done in foreign language recruitment sites. It is hard to imagine that law enforcement resources would be able to monitor websites such as Meimin which equates to a Chinese version of Craigslist. Here's an article about how this works here.
Meimim advertising for "providers"
Web scraping phone numbers and then matching Rubmaps listings along with Google Translator services resulted in the samples below. One is a phone number match for a likely illicit San Diego business, the second is an ad enticing workers in China to come to the US to do massage, and the third is clearly for sex workers. All of these appear in the massage employment sector of Meimim.
Meimin: The Craigslist of China
Continuing the journey
There is much more that could be investigated in relation to this project. For one thing, it could be scaled nationwide as illustrated by the map below which plots all businesses that appear on Rubmaps. Additionally, data shows that some locations that do get shut down are almost simultaneously reopened. Access to court cases and ownership logs may prove to be fascinating. Additonally, since organized crime is thought to be at the helm of illicit massage, the true cost to the economy would be interesting to analyze such as tax losses and the effects unfair buisness competition has on certified professional massage therapists and consumers.
Supporting data all is available part for download on GitHub. It is anonymized for legal reasons. The link is here: Legal or Illicit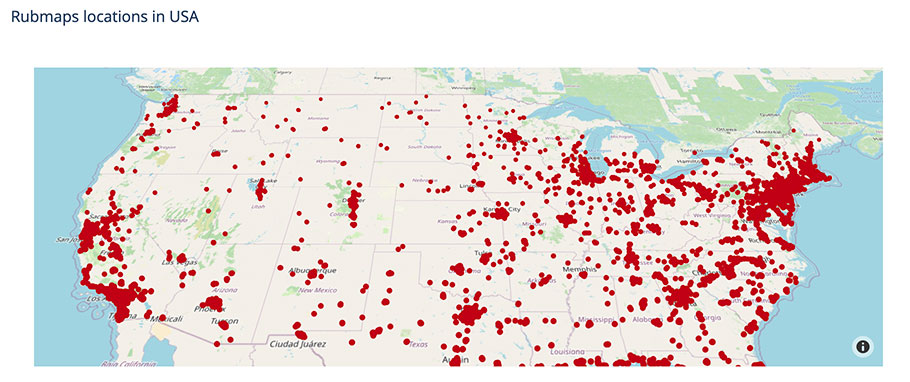 Sheri Rosalia | Data Engineer
Data Engineer | Data Analyst | Data Scientist